Nancy Simonian, M.D.
President and Chief Executive Officer
View Bio
Nancy Simonian, M.D.
President and Chief Executive Officer
Nancy is the founding CEO of Syros and has an established track record of value creation in biotechnology. Prior to Syros, she was Chief Medical Officer at Millennium Pharmaceuticals, and previously, Vice President of Clinical Development at Biogen. Nancy has overseen the successful development of numerous medicines. Under Nancy's leadership as Chief Medical Officer at Millennium, VELCADE became a mainstay of treatment for multiple myeloma. Nancy led development of Millennium's clinical pipeline, including NINLARO for hematologic malignancies and ENTYVIO for inflammatory bowel disease. At Biogen, Nancy played a central role in developing AVONEX and TYSABRI for multiple sclerosis. Nancy started her career as an assistant professor at Harvard Medical School and neurology staff at Massachusetts General Hospital (MGH). She trained in neurology and internal medicine at MGH and graduated with a bachelor's degree in biology from Princeton. She is currently a member of the board of directors of Seagen, the Biotechnology Innovation Organization (BIO) and the Damon Runyon Cancer Research Foundation.
Conley Chee
Chief Commercial Officer
View Bio
Conley Chee
Chief Commercial Officer
Conley brings 20 years of pharmaceutical sales leadership, marketing, and strategy experience in the U.S. and globally, with particular expertise in driving commercial strategy for novel medicines for the treatment of cancer. Prior to Syros he most recently served as Global Head of Portfolio Management, Global Pipeline Strategy and Precision Medicine at Novartis Oncology. In this role, Conley had strategic responsibility for shaping Novartis' overall pipeline, including driving commercial planning for the company's early-stage portfolio and diagnostics strategy for oncology. Earlier in his career at Novartis, Conley served as Vice President – Global Head Oncology Lung Franchise, as well as multiple US sales and marketing leadership roles. Prior to joining Novartis, Conley spent five years in roles of increasing responsibility at Pfizer, ultimately serving as Team Leader of International Business Development. He holds an M.B.A from the Richard Ivey School of Business at the University of Western Ontario and B.Sc. Pharm from the University of Alberta, and completed his residency in Clinical Pharmacy at the University of British Columbia.
Jason Haas
Chief Financial Officer
View Bio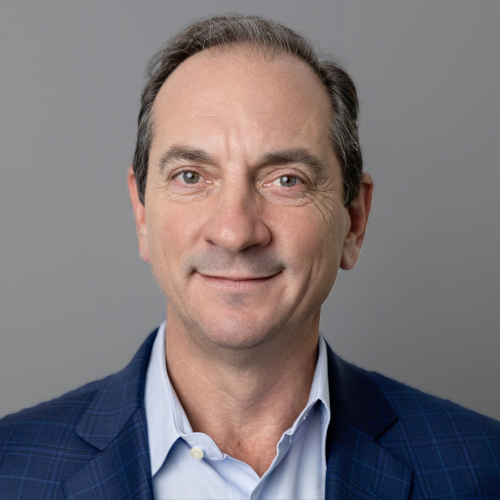 Jason Haas
Chief Financial Officer
Jason brings over 25 years of healthcare investment banking and corporate finance experience. He has proven track record as a strategic advisor to biotechnology and pharmaceutical companies across all stages of development. Jason most recently served as Co-Head of Americas, Healthcare Investment Banking at Barclays, where he executed an array of strategic transactions across the public and private markets, and supported companies through equity and debt financings, mergers and acquisitions, divestitures, and spin-offs. Prior to joining Barclays in 2016, he served as Head of Americas, Healthcare Investment Banking at Deutsche Bank. Prior to his role at Deutsche Bank, he was a Managing Director on the Healthcare Investment Banking team at Goldman Sachs & Co, where he covered life sciences companies. Jason holds an M.B.A in Finance from Columbia Business School and a B.A in International Relations and Economics from Colgate University.
Eric R. Olson, Ph.D.
Chief Scientific Officer
View Bio
Eric R. Olson, Ph.D.
Chief Scientific Officer
Eric has more than 25 years of experience in the life sciences industry with a proven record of translating scientific discoveries into breakthrough medicines. Prior to Syros, he was Research Vice President for respiratory diseases at Vertex Pharmaceuticals, spearheading the company's efforts in cystic fibrosis (CF). During his 12 years there, he was instrumental in bringing KALYDECO, the first CF treatment resulting from the discovery of the CF gene to patients, leading the research, development and commercial teams. In addition to his work at Vertex, Eric has also held positions as the Director of Antibacterials and Molecular Sciences departments at Warner-Lambert/Pfizer, as well as a research scientist focused on gene expression systems with The Upjohn Company. Eric earned his B.S. in microbiology from the University Minnesota and a Ph.D. in microbiology and immunology from the University of Michigan. He is published in more than 40 academic journals.
Gerald E. Quirk
Chief Legal Officer
View Bio
Gerald E. Quirk
Chief Legal Officer
Gerald brings more than 20 years of senior leadership and legal experience in the biotechnology industry. Before joining Syros, he was Executive Vice President of Business Operations and General Counsel at Tokai Pharmaceuticals, where he was responsible for legal and business operations, including human resources, corporate communications and information technology. Prior to Tokai, Gerald was a partner and co-chair of the life sciences practice at Choate, Hall & Stewart LLP, a Boston law firm. In this role, he represented leading biopharmaceutical companies in corporate and securities law matters, financing and M&A transactions, and licensing and product development transactions. Before Choate, he was Vice President of Corporate Affairs and General Counsel at Infinity Pharmaceuticals with responsibility for the company's legal, intellectual property, finance and corporate communications activities, and prior to that, he held progressively responsible legal and business development positions at Genzyme Corporation. Gerald holds a B.A. in political science from Swarthmore College, an Ed.M. in educational administration from Harvard University and a J.D. from Northeastern University.
Lisa Roberts
VP Human Resources
View Bio
Lisa Roberts
VP Human Resources
Lisa brings more than 15 years of biotechnology operations experience within the HR, business operations, facilities, and IT domains. Prior to Syros she was Associate Director of Operations at On-Q-ity (formerly The DNA Repair Company), where she progressed over her five-year tenure and was responsible for purchasing, contracts, information technology, facilities and human resources. It was there that Lisa established a concentration on the human experience at all levels in the organization, growing the performance management program, managing the HR elements of a merger, and establishing a culture of respect and collaboration. Lisa joined Syros in 2012 as one of the company's first employees and laid the human resources ground-work to build a values-based and learning culture.
Prior to life in biotech, Lisa spent her early career in the restaurant industry and the not-for-profit sector. She earned her Bachelor of Fine Arts in Creative Writing from Emerson College.
David A. Roth, M.D.
Chief Medical Officer
View Bio
David A. Roth, M.D.
Chief Medical Officer
David brings more than 20 years of experience in industry and academic clinical research with a strong track record of successful oncology and hematology drug development. Prior to Syros, he was Executive Vice President and Chief Medical Officer of Infinity Pharmaceuticals and, previously, interim Co-head of Clinical Development and Vice President of Early Development in Pfizer's Oncology Business Unit. David joined Pfizer from Wyeth, where he held the roles of Assistant Vice President of Clinical Research & Development and Global Therapeutic Area Director of Hematology. While at Pfizer and Wyeth for over a decade, David contributed to the successful regulatory approval of several products, including Bosulif® (bosutinib), a dual Src/Abl tyrosine kinase inhibitor for the treatment of chronic myelogenous leukemia, Xyntha® and ReFacto AF® for the treatment of hemophilia A, and BeneFIX® for the treatment of hemophilia B. David also led the early development of Ibrance® (palbociclib), a CDK 4/6 inhibitor, which was awarded breakthrough status and subsequently received accelerated approval as a treatment for ER-positive, HER2-negative advanced breast cancer on a Phase 2 study. In addition to his extensive industry experience, David is an accomplished academic researcher and physician-scientist and was on the full-time faculty at Harvard Medical School and Beth Israel Deaconess Medical Center in the Division of Hematology/Oncology. He completed his fellowship in hematology and oncology at Tufts-New England Medical Center and his Internal Medicine residency at the New England Deaconess Hospital in Boston. David received his B.S. from the Massachusetts Institute of Technology and his M.D. from Harvard Medical School in the Harvard-M.I.T. Division of Health Sciences and Technology.
Kristin Stephens
Chief Development Officer
View Bio
Kristin Stephens
Chief Development Officer
Kristin has more than 25 years of experience in the biopharmaceutical industry, with a proven track record of successfully leading global clinical programs across all phases of development. Prior to Syros, Kristin spent nearly 10 years at Millennium Pharmaceuticals and then Takeda Pharmaceuticals in a variety of roles with escalating responsibilities, serving most recently as Vice President of Global Clinical Operations. In that role, she led more than 50 concurrent clinical studies across 15 programs and managed a functional team of more than 100 people across the United States, Europe and Asia. Kristin played an instrumental role in the development and ultimate approval of ENTYVIO for inflammatory bowel disease and NINLARO for hematologic malignancies. Earlier in her career, Kristin worked at Quintiles Strategic Research Services, Clinical Assistance Programs and Eastern Cooperative Oncology Group. Kristin earned her B.A. in mathematics and psychology at William Smith College.